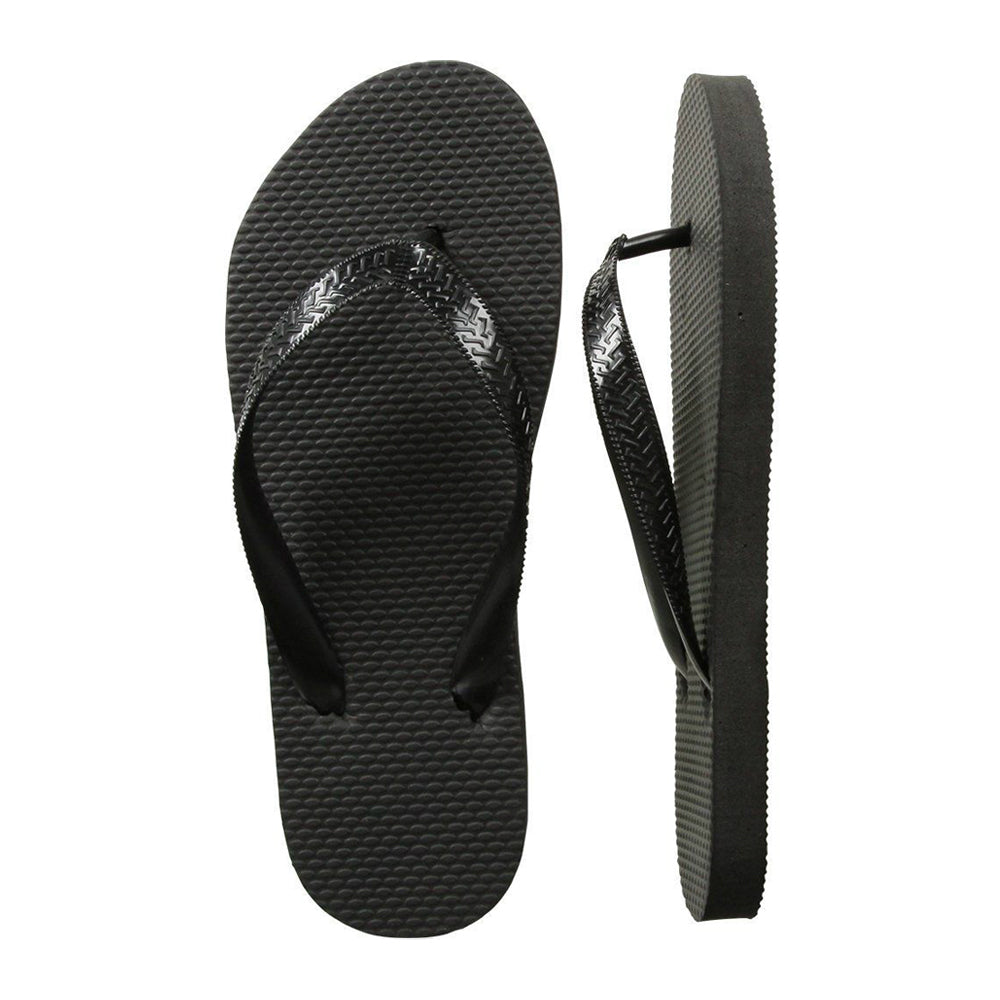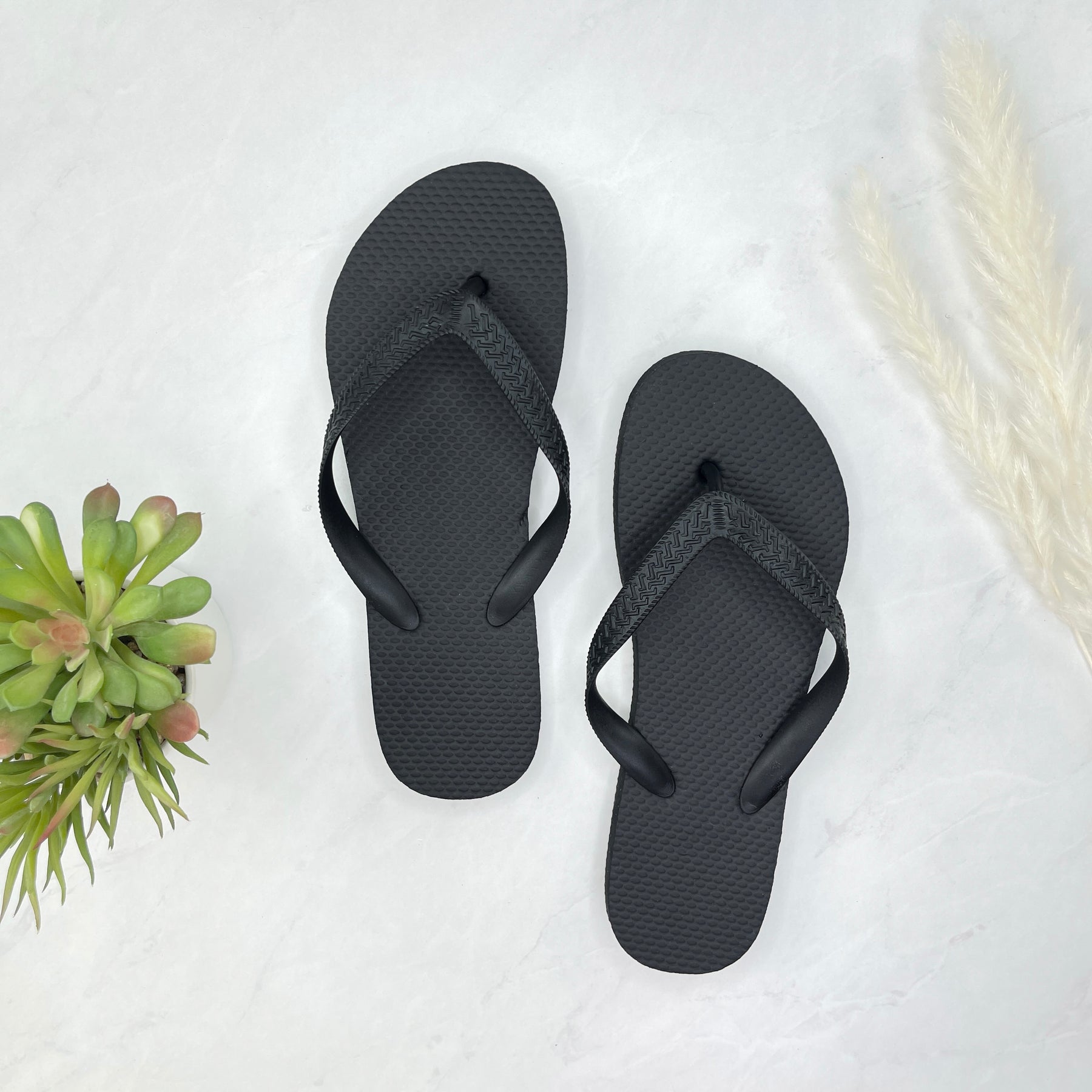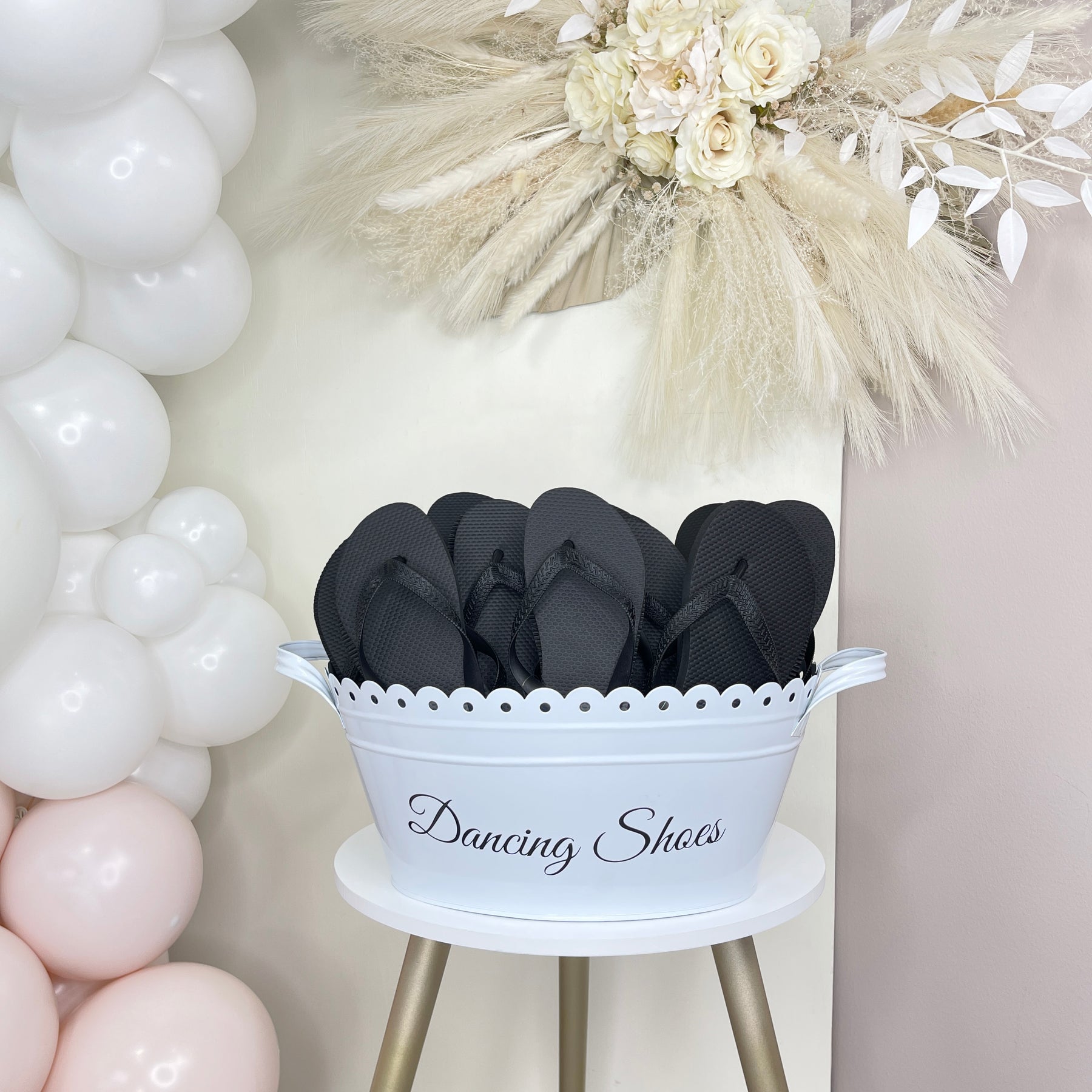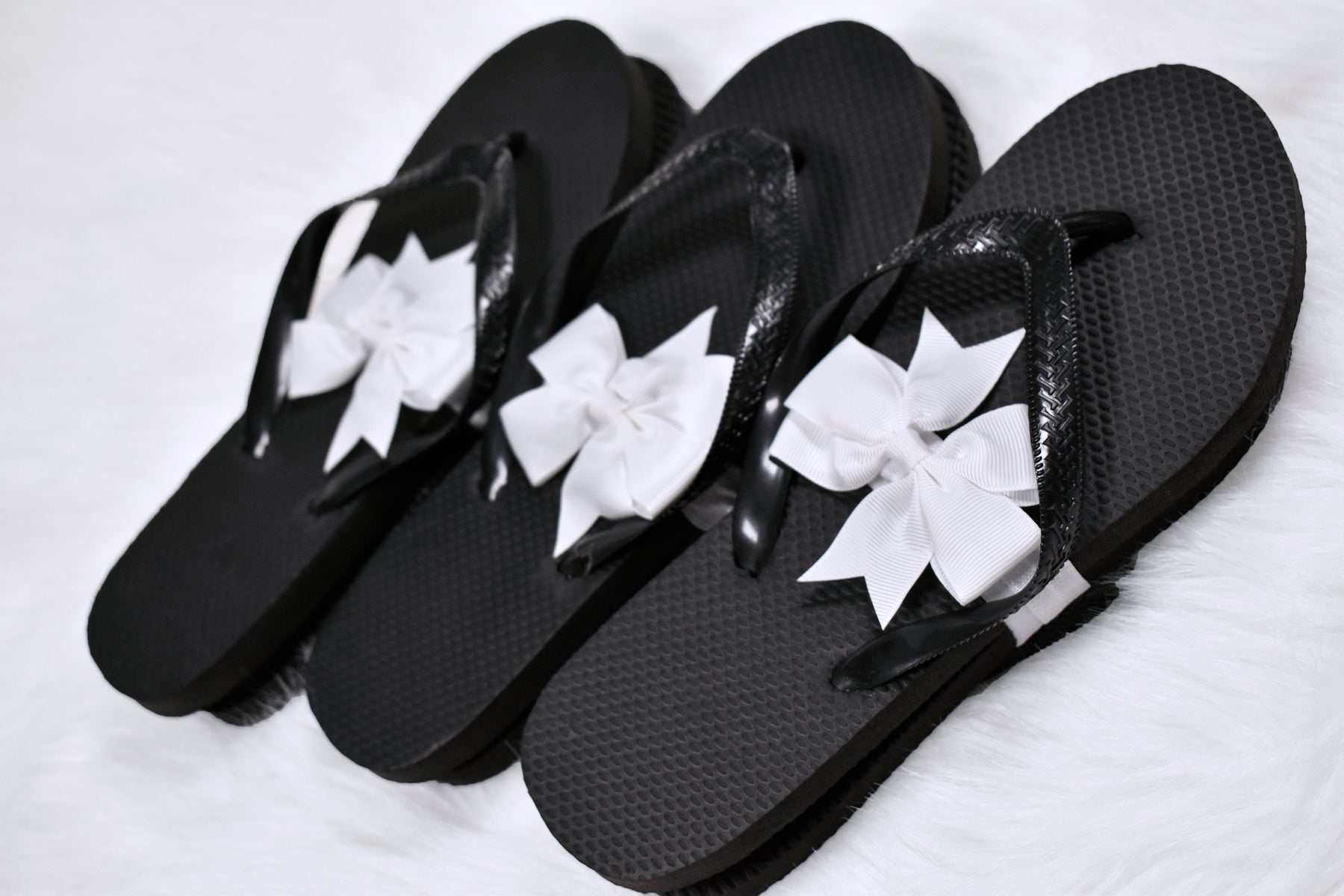 Black Flip Flops in Bulk, 20 Pairs
20 PACK (3 small/12 medium/5 large)
Keep your wedding guests comfortable and stylish with our bulk pack of black flip flops!  Our black wedding guest flip flops are perfect for a classic wedding theme. The strap is a simple matte color that will go with just about anything. Comfortable, durable, and customizable for a perfect match to your special day. Use them for wedding parties, bachelorette parties, family reunions or at the beach.
Women's Sizes Included:

3 - S (size 5/6)
12 - M (size 7/8)
5 - L (size 9/10)

Our high quality flip flops and are made with high density rubber, with a 15mm sole thickness for maximum cushion & support. The straps are 30% wider than standard flip flops providing a more snug fit.

We recommend that you purchase a sample. Everyone's idea of comfort is different and a difference in monitor screens can mean we view colors differently. We simply want to make sure you are happy with your order.

Samples are FREE! We will refund your sample order if the bulk flip flop order is placed!
We ship samples within 2 business days. To view the most accurate transit times it is best to add the item to the cart, go to checkout and enter your address. You will see transit times in the shipping secion.
If you are in a rush and need the items by a specific date please contact our support team: support@receptionflipflops.com.
Please see below the indivdual item locations:
We offer full refunds and free exchnages if any issue is our fault.
If you have a change of heart we offer refunds and exchanges, but please check our refund page for eligibility and more details/costs.
Accessorize Your Flip Flops
General
They do! They are connected by a plastic loop tie. They are very easy to remove.
Yes! All our flip flops come with a small round white sticker (about 1/2") with S, M or L.
They are easy to take off if you are using bands or hang tags with sizing on them. Otherwise leave them on so your guests know which size they are grabbing.
Definitely! Just select SAMPLE above. Or if you are on the Flip Flop Sample page you can just select the color you need. You will receive a random size.
Unfortunately no, our 20 pack flip flop boxes are pre-packaged by our manufacturer (with 3 smalls, 12 mediums, 5 larges in each box). 
You can purchase a sample so you can see the quality/color before purchasing a larger order. Sample orders are limited to one per order and a random size will be sent. 
Our flip flops and ballet flats come in 3 sizes, small, medium, & large. Our sizes include half sizes. All sizes are womens sizes. 
Small will fit a US size 5-6.5
Medium will fit a US size 7-8.5
Large will fit a US size 9-11
You can refence the flip flop size chart above in the tabs. 
Shipping
Yes, we ship all over the world. Shipping costs will be calculated at checkout. We run discounts and promotions all year, so stay tuned for exclusive deals.
It depends on where you are. The fastest way to view transit times is to go to checkout and enter your address.
Please be aware that you need to add our processing time to the transit time. We do our best to process and deliver all our orders within 2 business days (with the excpeption of custom products like bands and hang tags which can take up to 7 buisness days).
If you are in a rush and need the bundle by a specific date please contact our support team: support@receptionflipflops.com.
Other
Click here to contact us through our contact page! We will be happy to assist you.
Wedding flip flops
They were perfect! I have recommended them for lots of my friends!
Thank you for the great review! We're so happy that you're happy with the flip flops and that you've recommended them to your friends!
A Big Hit!!
I ordered 2 full sets in black & white for our black tie wedding and almost all the guests slipped some on. The looked great and saved lots of sore feet!
Hi Mary, thank you very much for your review, We're very happy to hear that the guests found the flip flops comfortable! Have a great day :)
as promised
well constructed and perfect for the wedding
They were a hit!
Bought these because they had better reviews than some of the other bulk flip flops out there and they were a hit! I even had some people wear them after the wedding and said they were a lot more comfortable than the ones they sell on Amazon. Definitely recommend to anyone planning a wedding.
Hi Elizabeth, thank you very much for your review. We're happy that the guests liked them! :)
Great flip flops for my wedding
These were perfect for my wedding guests. They arrived very quickly. Would've probably preferred some additional Small sizes, there were not very many in the package. Otherwise, they were comfortable and appreciated by my guests!
Hi Christina, thank you very much for your review :)