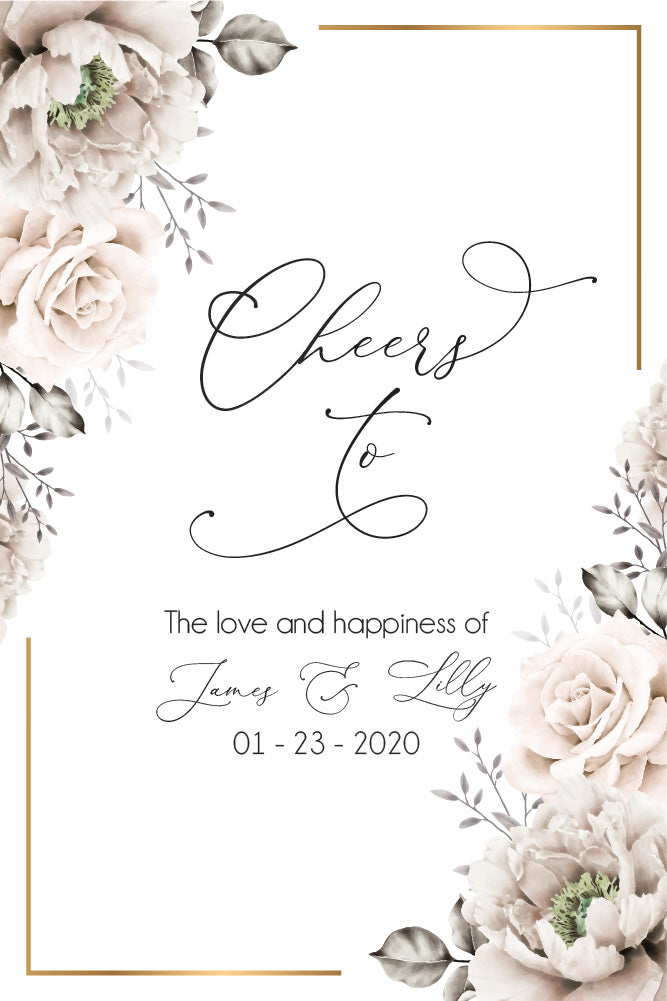 Wedding Wine Label Style 13 - Set of 4
Digital Download (4" x 5")
Easily customize your wedding wine labels. Select your content above. 
Our labels are waterproof, repositionable and removable. Need to chill your wine or keep it in the fridge, no problem! Didn't place it right the first time, no problem! Want to keep it as a keepsake or for a scrapbook, no problem! Our labels are so simple, anyone can apply... they simply peel and stick. All labels come cut to the specific size you ordered to fit your bottle with ease.

Size :
4" x 5" set of 4 - Fits a standard 750ml wine bottle (this label typically works better with most red wine, wine bottle) ** This size is great for gift bags or gift boxes too!
4" x 3 1/3" set of 6 - Fits most wine bottles.

It's up to you how you would like it to fit on your bottle or candle. We recommend measuring if you are unsure which size to order to help ease the decision making process. In the customization setting you can let us know if you would like the label to be printed portrait or landscape. 
If you ordered a digital download, your download will be emailed to you once payment is made. There are many labels out there, every label provider should provide a label template. Pease upload your label template and we will affix the labels on your template so its ready to print. If you want to do this yourself, then we will just send the download as is. 

Our labels are made to order! Our general turnaround time is 1-3 business days, and transit is usually 3-6 business days (US) once your item has shipped.

***Bottle NOT included***

***This item is made to order, therefore we can NOT offer exchanges or returns, all sales are FINAL***