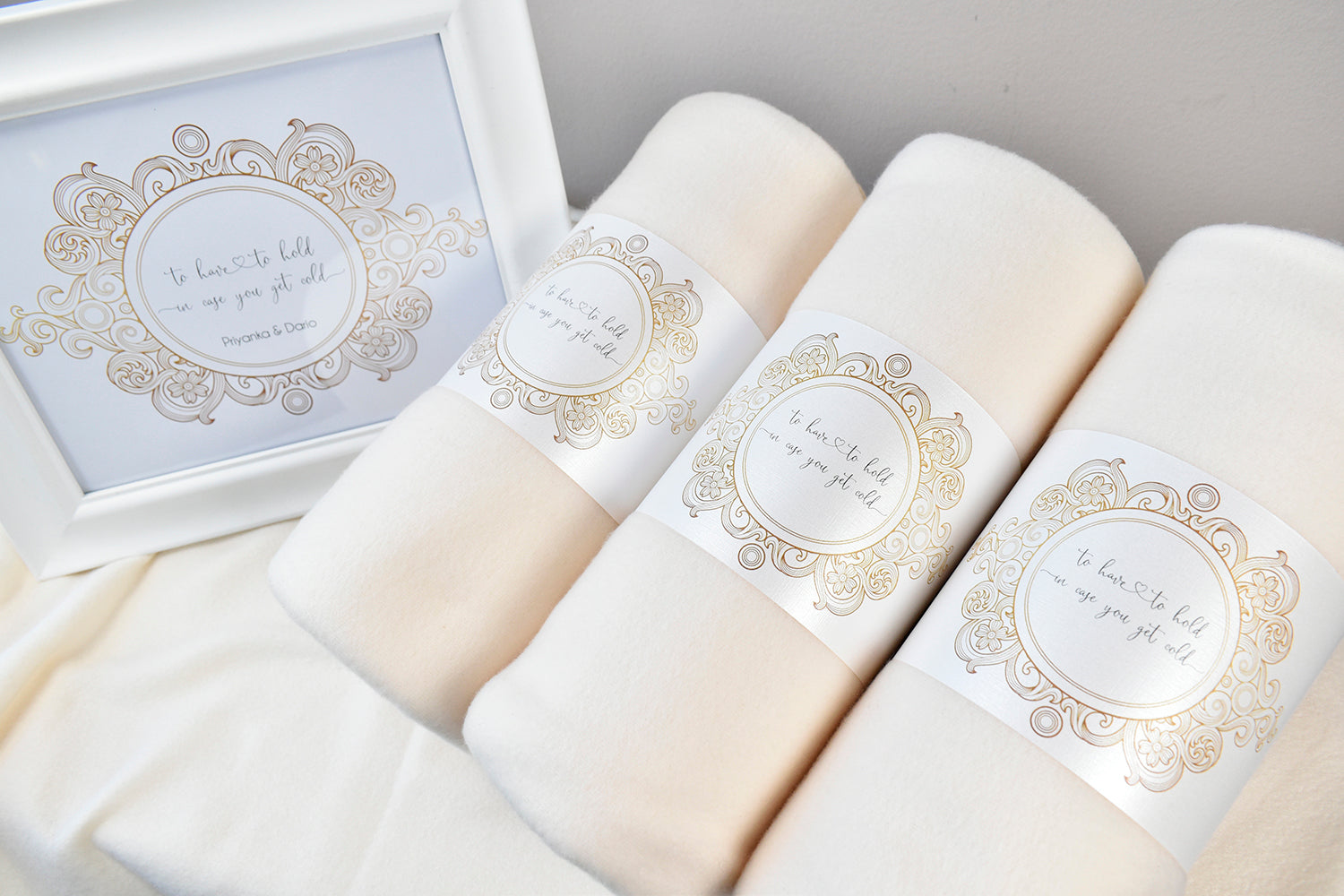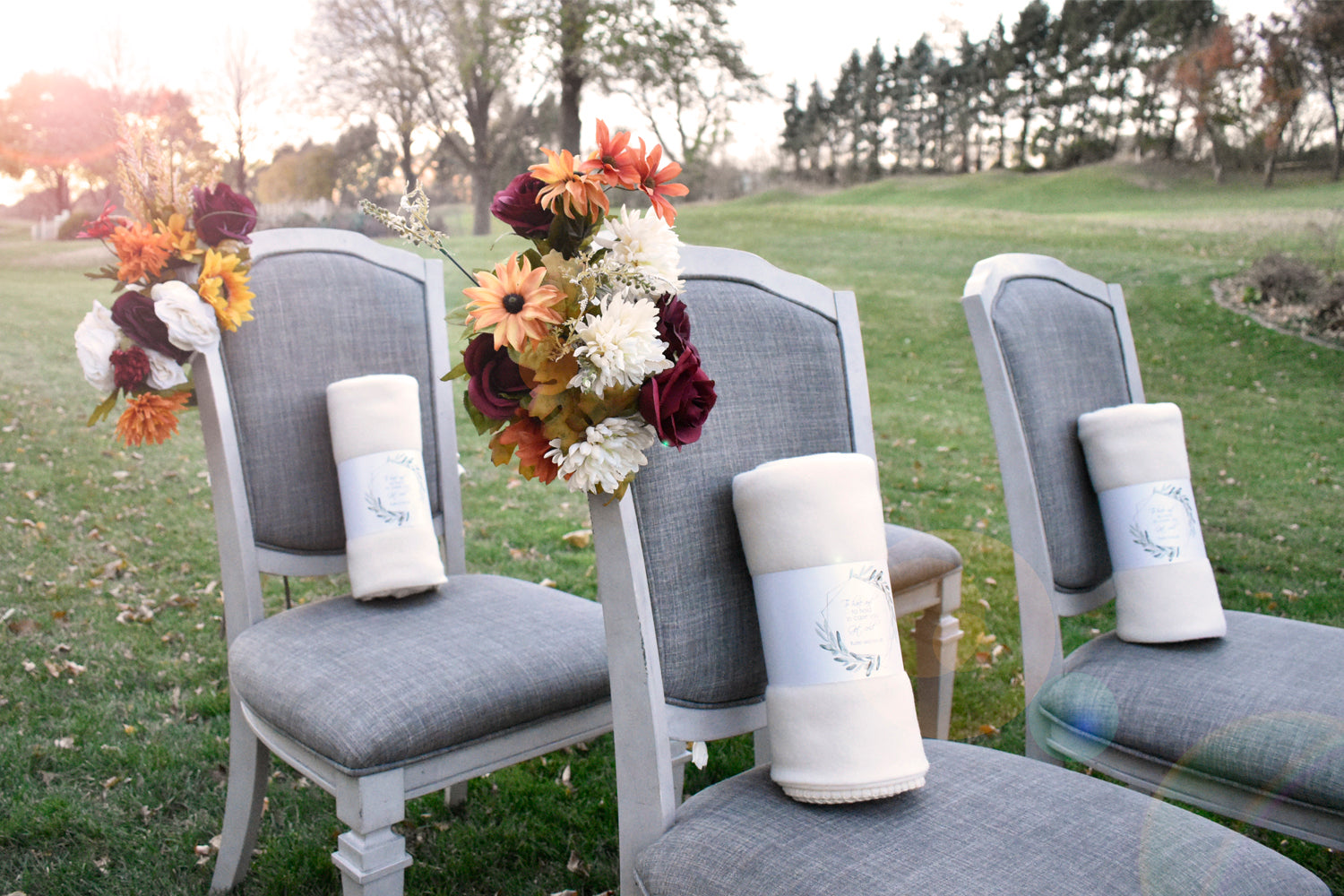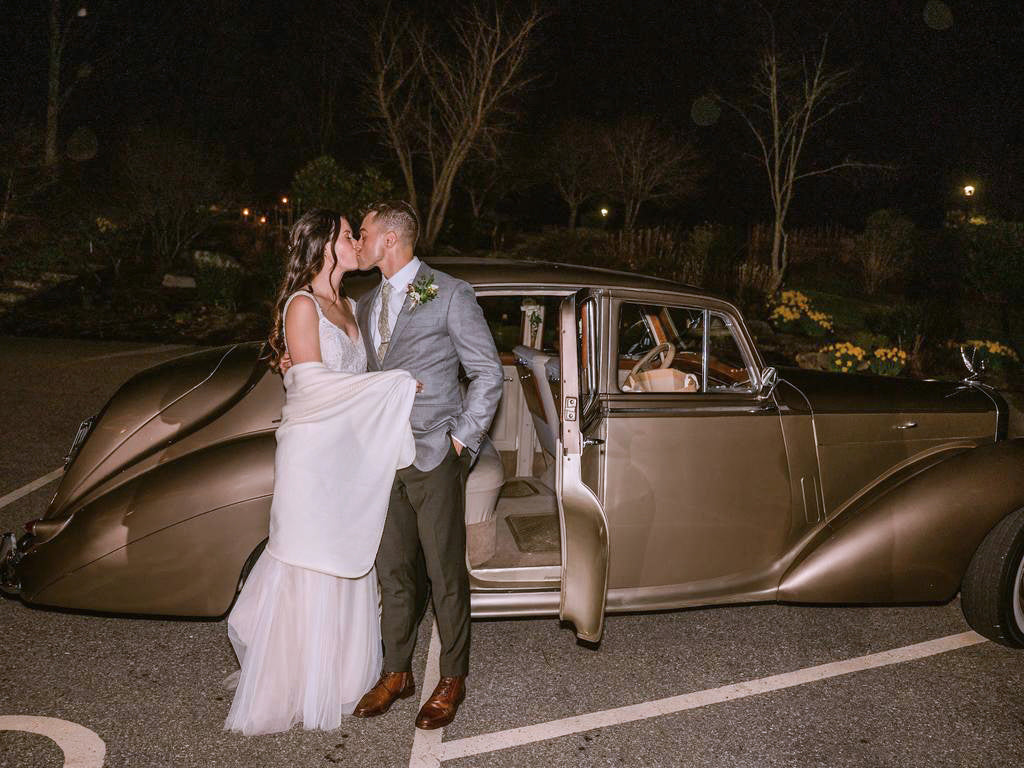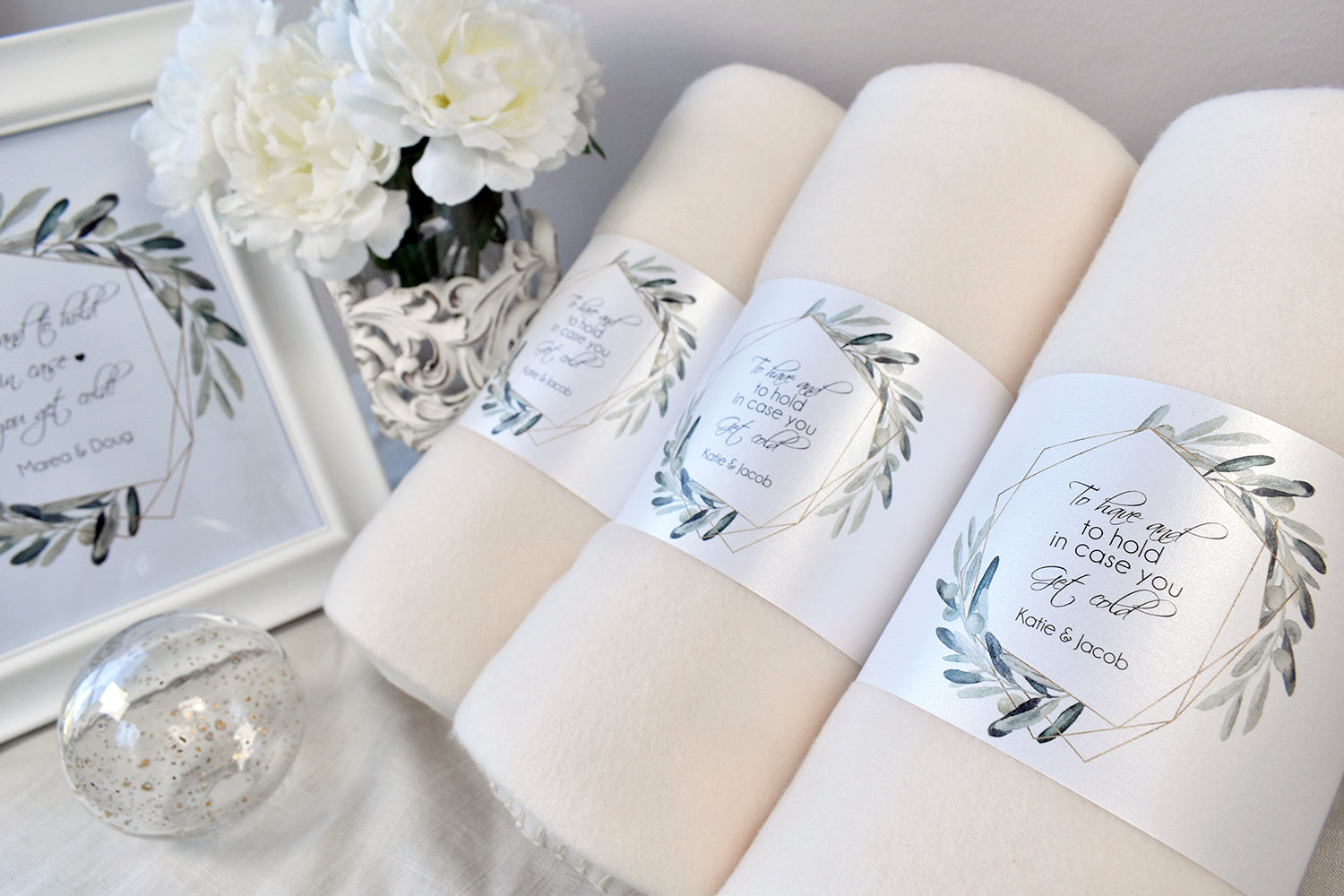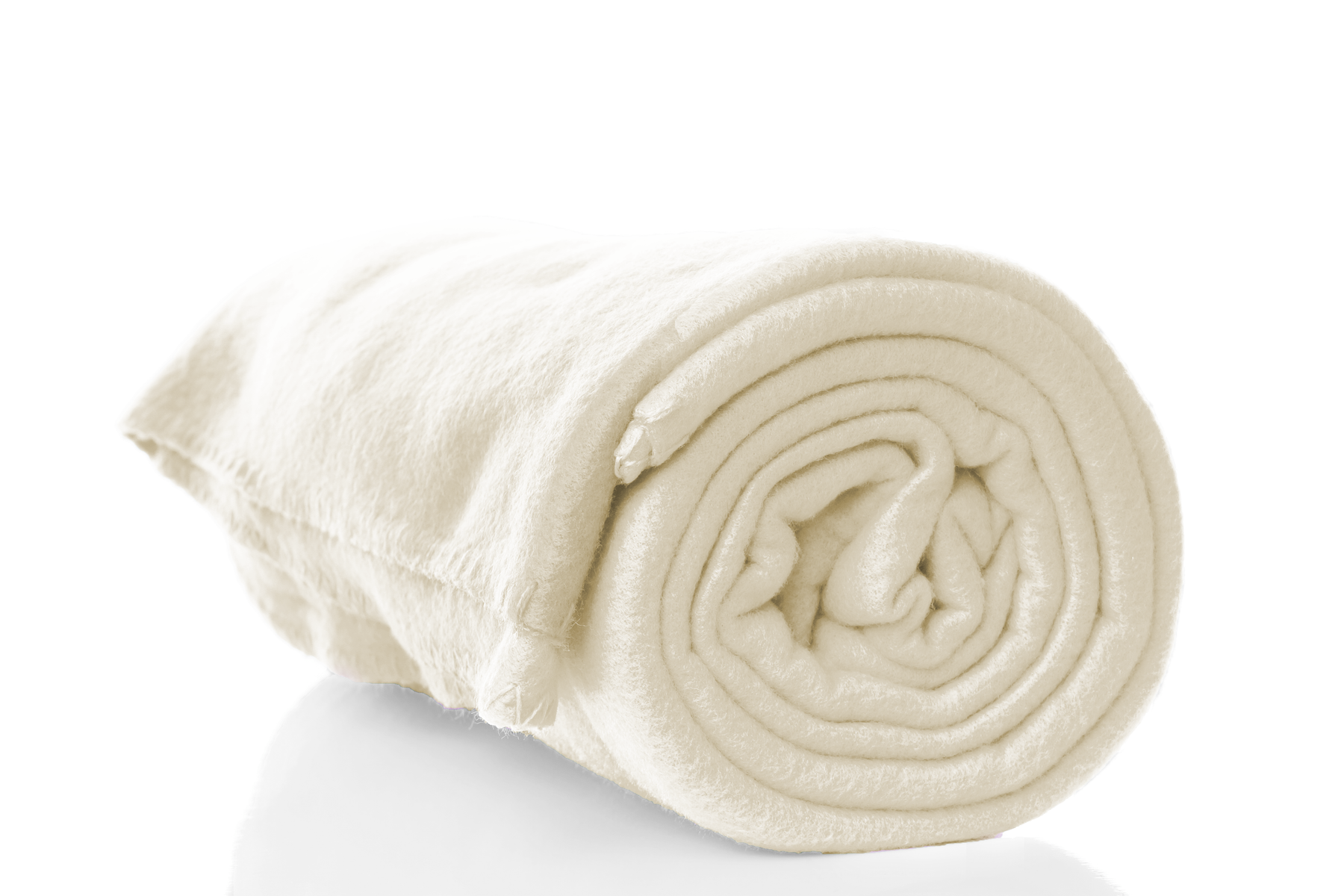 Ivory Polar Fleece Bulk Blanket Wedding Favor
Sample - 1 pc (limit one per order)
Our bulk ivory polar fleece blankets are extremely soft and a perfect wedding favor for guests at an outdoor or winter wedding. They are sure to keep your wedding reception guests warm and cozy. Simply roll them up and place on your guests ceremony chairs or just place them in a nice basket at the wedding reception.
These are even great for proms! In the photo to the left, one of our customers was a mom that helped organize her daughters prom and they provided blankets to the high schoolers because the prom was required to be outside. Brilliant idea! 
The blankets are made extra wide (60 inches) to make sure they wrap completely around your wedding guests, making sure they are nice and warm.   
Please make sure to purchase a sample if you are placing a large order to insure quality and color expectations are met. 
BANDS SOLD SEPERATELY
Dimensions: 60" x 50"
Material: Polar Fleece / 100% Polyester 
We ship samples within 2 business days. To view the most accurate transit times it is best to add the item to the cart, go to checkout and enter your address. You will see transit times in the shipping secion.
If you are in a rush and need the items by a specific date please contact our support team: support@receptionflipflops.com.
Please see below the indivdual item locations:
We offer full refunds and free exchnages if any issue is our fault.
If you have a change of heart we offer refunds and exchanges, but please check our refund page for eligibility and more details/costs.
Bought one for a sample. So so pleased with the quality. The ivory color is pure, no yellowish undertone.
Perfect to offer to guests for an outdoor Japanese garden wedding in Chicago in October. Just in case!
Will be buying in bulk.
Wonderful gift for the wedding guests
Our daughter's wedding was outside in the Smokey Mountains on Jan. 28th! It was a beautiful day, but did get chilly in the evening. Everyone loved a fleece blanket to add a little warmth and it added such a nice flare to the wedding. Everyone enjoyed them so much. It was a great keepsake from the event as well.
Hi Colleen, We're so glad our daughter's wedding guests enjoyed this beautiful fleece blanket! It was a great way to keep them warm and to add a little extra style to the event. Thanks for sharing your experience and for the picture too!
Perfect and Cozy for a Connecticut Wedding!!
We were about to have a beautiful autumn wedding at our home and a few days out the forecast suggested a dramatic temperature tumble. We found this marvelous vendor and not only were they able to get the blankets to us IMMEDIATELY, but when they arrived, the blankets were just as wonderful as the reviews had said!!
We decided to get another shipment and I'm not sure how Reception Flip Flops did it, but we got them with enough time to wrap ribbons around each one!!
Hi Rebekah, thank you very much for your review. We're very happy that we were able to help you and to deliver your order on time and that you also liked the quality of it! We bet it was a beautiful wedding! :)
A huge favor
These blankets were perfect. My daughter's wedding was in the mountains, so as the night went on, it got chilly. These blankets were the perfect answer, and they loved taking them home, especially those flying.
Hi Marlene, thank you very much for your review. We're glad to hear that! :)