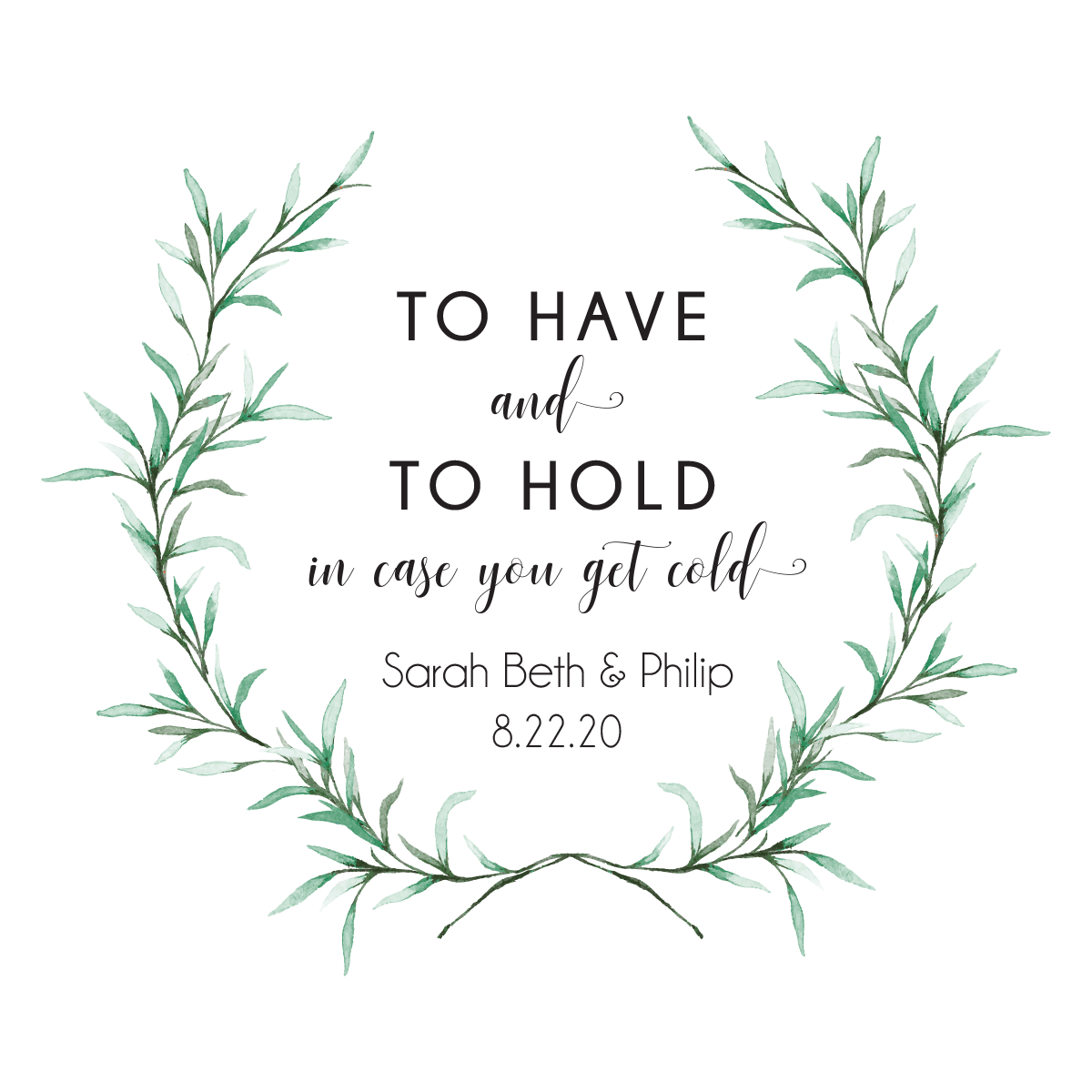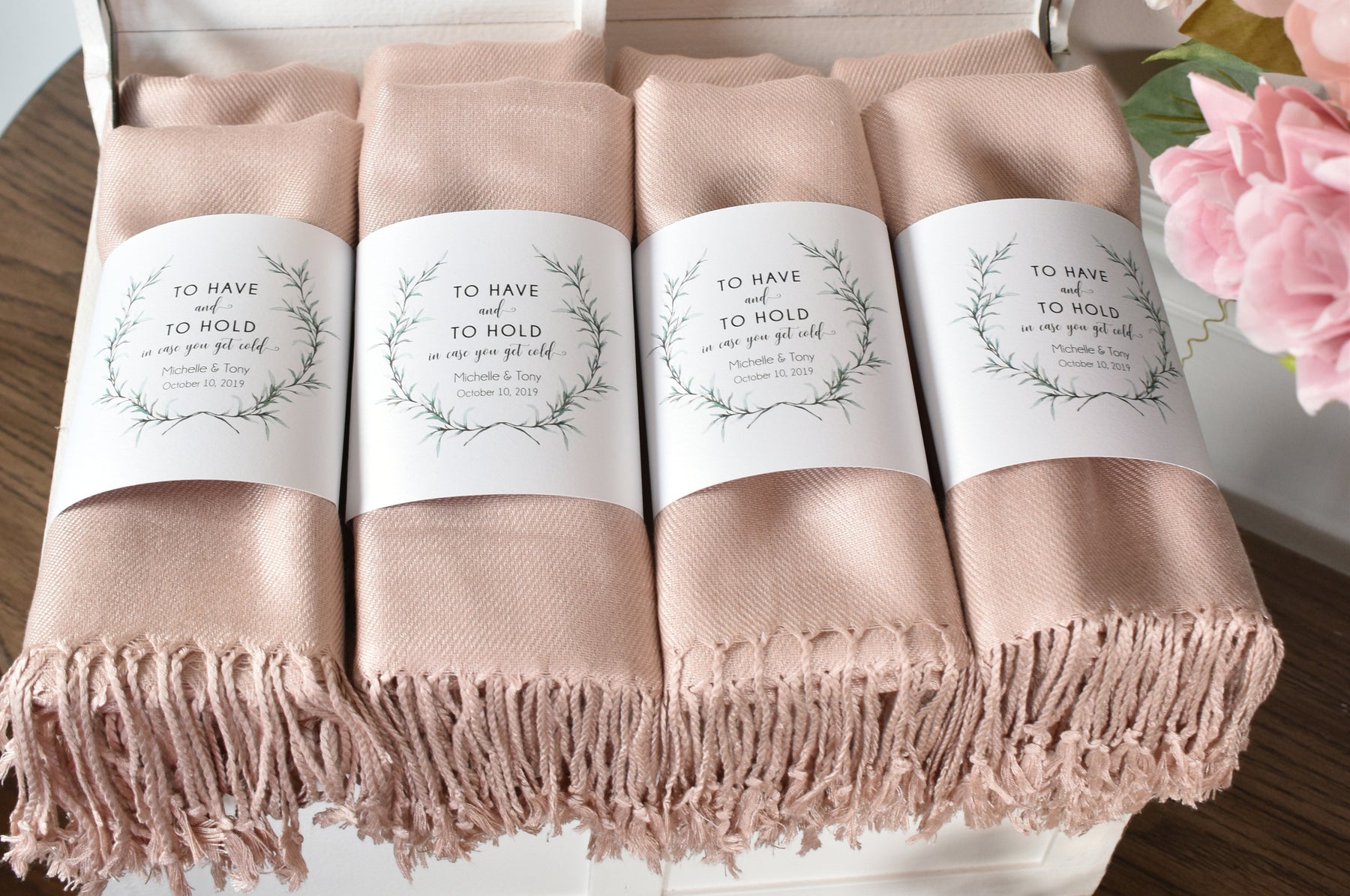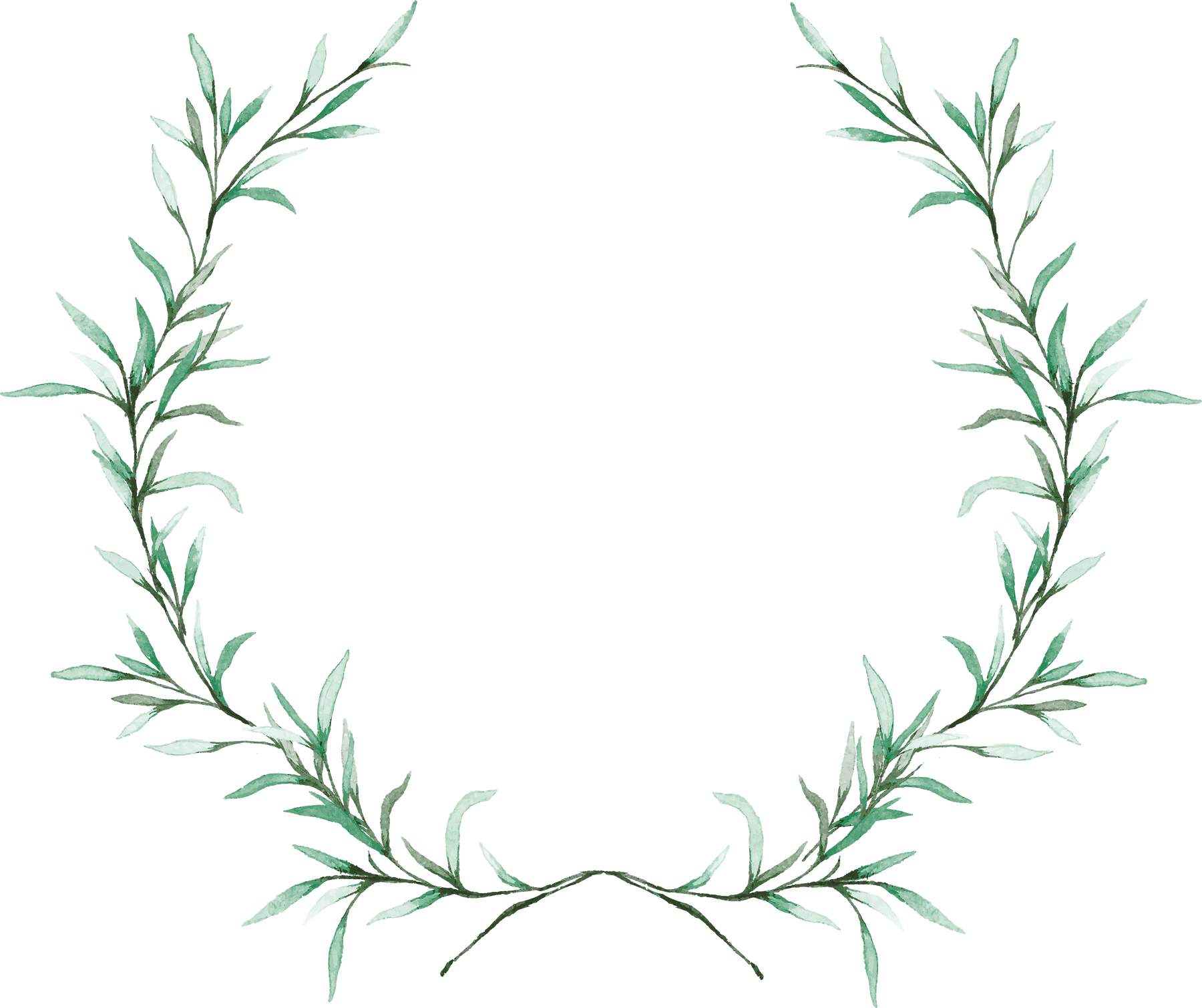 Wedding Favor Band - Style 1
This band design is a simple and clean green wreath. You really can't go wrong with this one. 
Our wedding favor bands are just what you need to add a personal touch to your wedding favors such as blankets, pashminas, Turkish towels, flip flops and many more. 

Price is per band, so for example if you have 50 favors then you need to order 50 bands to get one band for each favor. 
HOW TO ASSEMBLE - Each band will come with a glue dot for quick and easy securing. We provide tutorial videos upon request for your specific favor.  
If you need custom messaging please contact us via email: support@receptionflipflops.com.

Band Dimnesions:

Flip Flop - 3x10 inches

Pashmina - 4.25x11 inches

Blanket - 4.25x17 inches

We use quality 120lb cardstock paper with plenty of shimmery options to choose from.

Permanent glue dots included for easy securing. Since they are permanent there is no need for rubber bands!
Bands will ship seperate from other products so expect to receive them on different dates. Bands are a custom product and can take up to 5 buisness days to process.
If you are in a rush and need the bands by a specific date please contact our support team: support@receptionflipflops.com or call 800-615-1428.
Band ship from IL - Click here to view the delivery maps.
We offer full refunds and free exchnages if any issue is our fault.
If you have a change of heart we offer refunds and exchanges, but please check our refund page for eligibility and more details/costs.
General
They do! They are connected by a plastic loop tie. They are very easy to remove.
Definitely! Just select SAMPLE above. Or if you are on the Flip Flop Sample page you can just select the color you need. You will receive a random size.
Unfortunately no, our 20 pack flip flop boxes are pre-packaged by our manufacturer (with 3 smalls, 12 mediums, 5 larges in each box). 
You can purchase a sample so you can see the quality/color before purchasing a larger order. Sample orders are limited to one per order and a random size will be sent. 
Shipping
Yes, we ship all over the world. Shipping costs will be calculated at checkout. We run discounts and promotions all year, so stay tuned for exclusive deals.
It depends on where you are. The fastest way to view transit times is to go to checkout and enter your address.
Please be aware that you need to add our processing time to the transit time. We do our best to process and deliver all our orders within 2 business days (with the excpeption of custom products like bands and hang tags which can take up to 7 buisness days).
If you are in a rush and need the bundle by a specific date please contact our support team: support@receptionflipflops.com.
Other
Click here to contact us through our contact page! We will be happy to assist you.
Our flip flops and ballet flats come in 3 sizes, small, medium, & large. Our sizes include half sizes. All sizes are womens sizes. 
Small will fit a US size 5-6.5
Medium will fit a US size 7-8.5
Large will fit a US size 9-11
You can refence the flip flop size chart above in the tabs. 
Perfect
Shawls are soft, extremely well made. They were the hit of my daughter's wedding. Everyone loved them
Thank you for the positive review! We're so glad that you and your daughter loved them!. We're excited to hear that they were a hit with everyone! :)
Pashminas
Love them and customer service excellent.
Hi Mary Ann, thank you very much for your review. We're glad to hear that you also liked our customer service :)