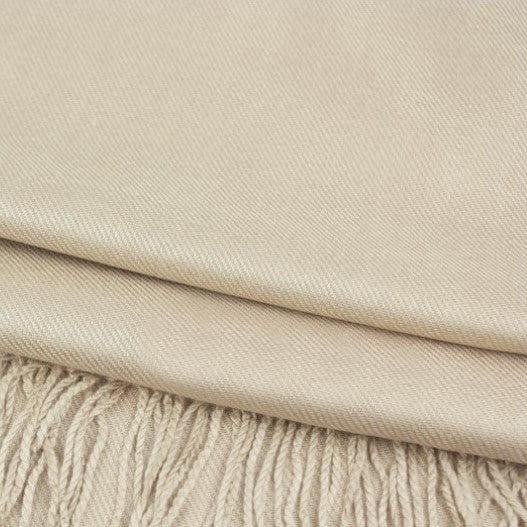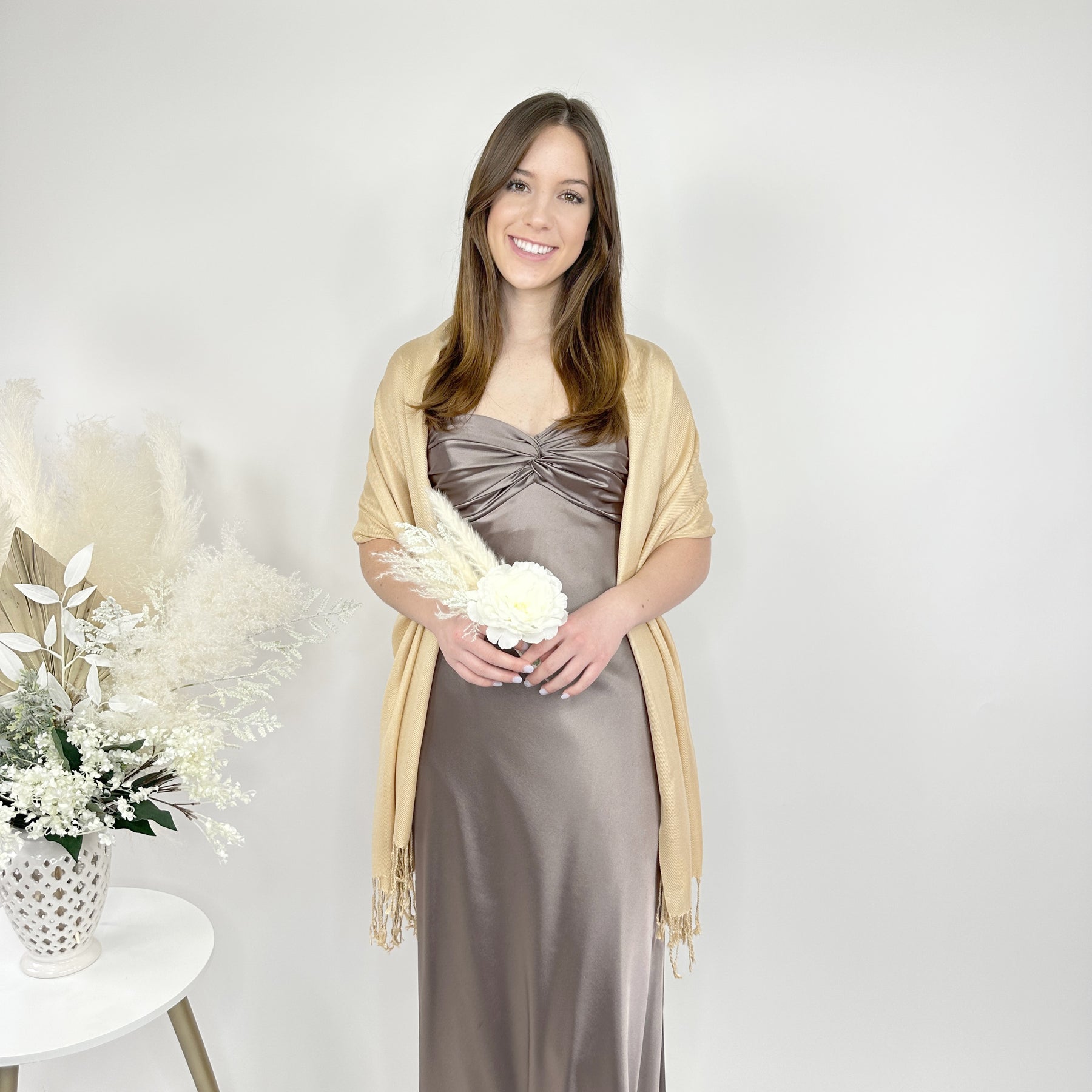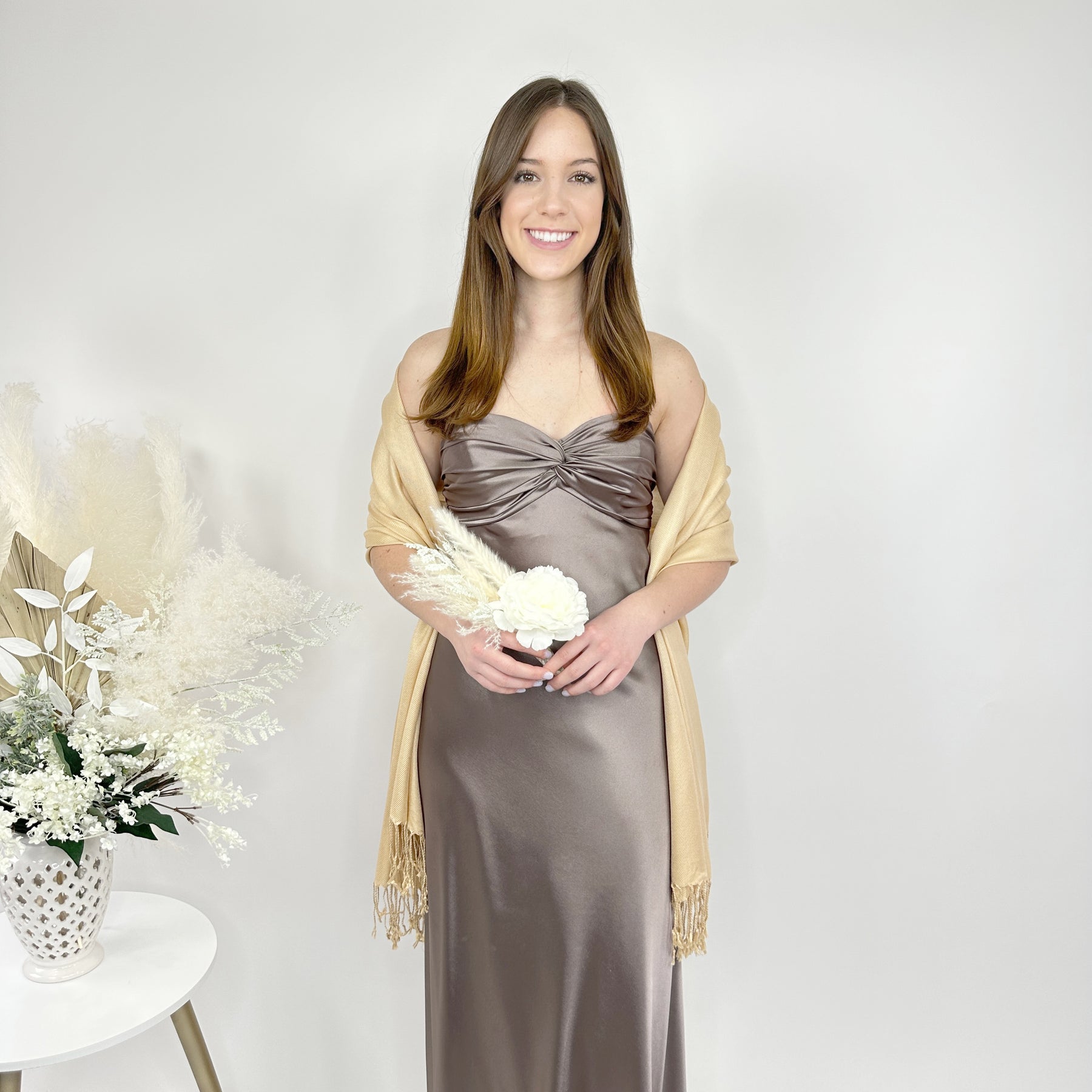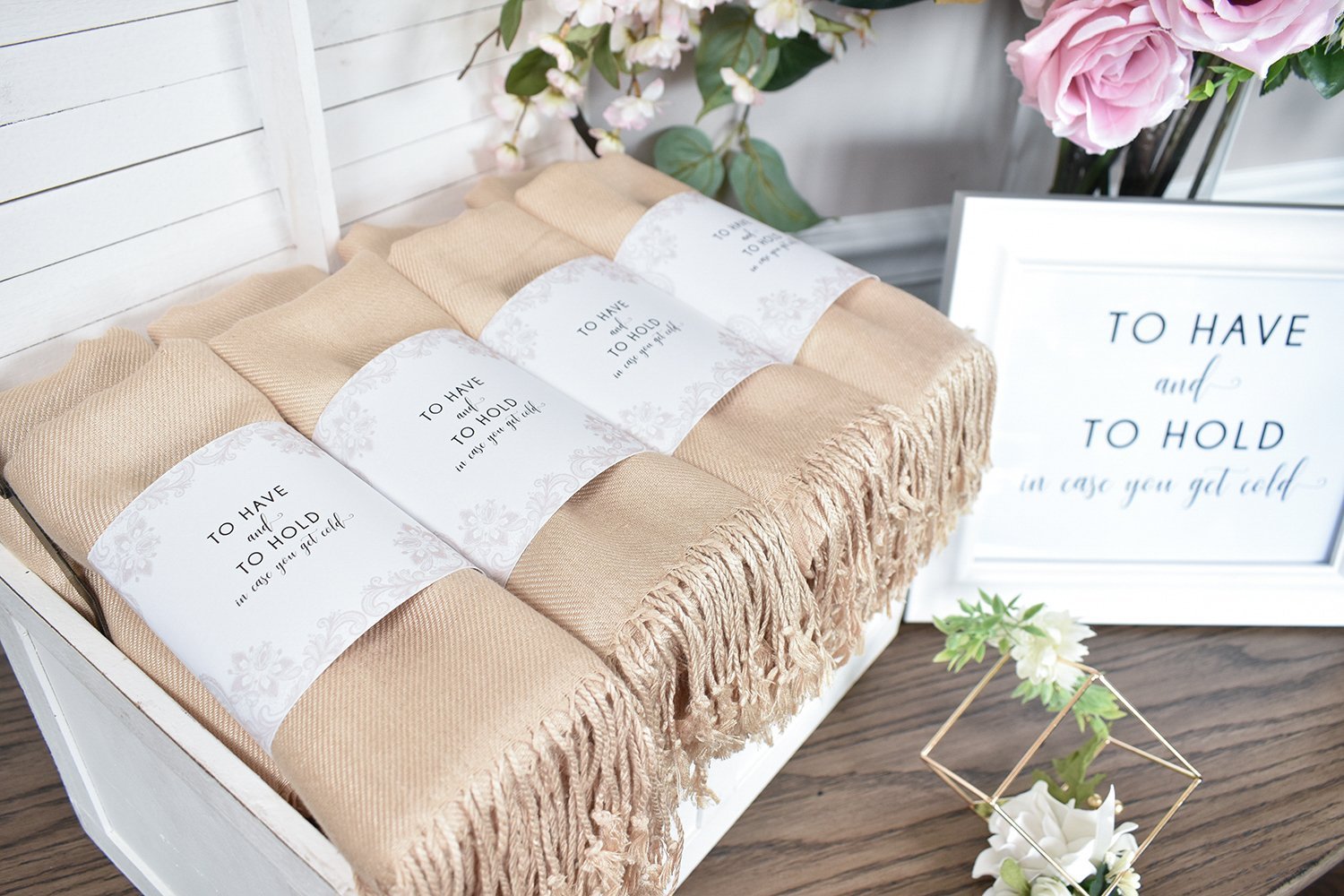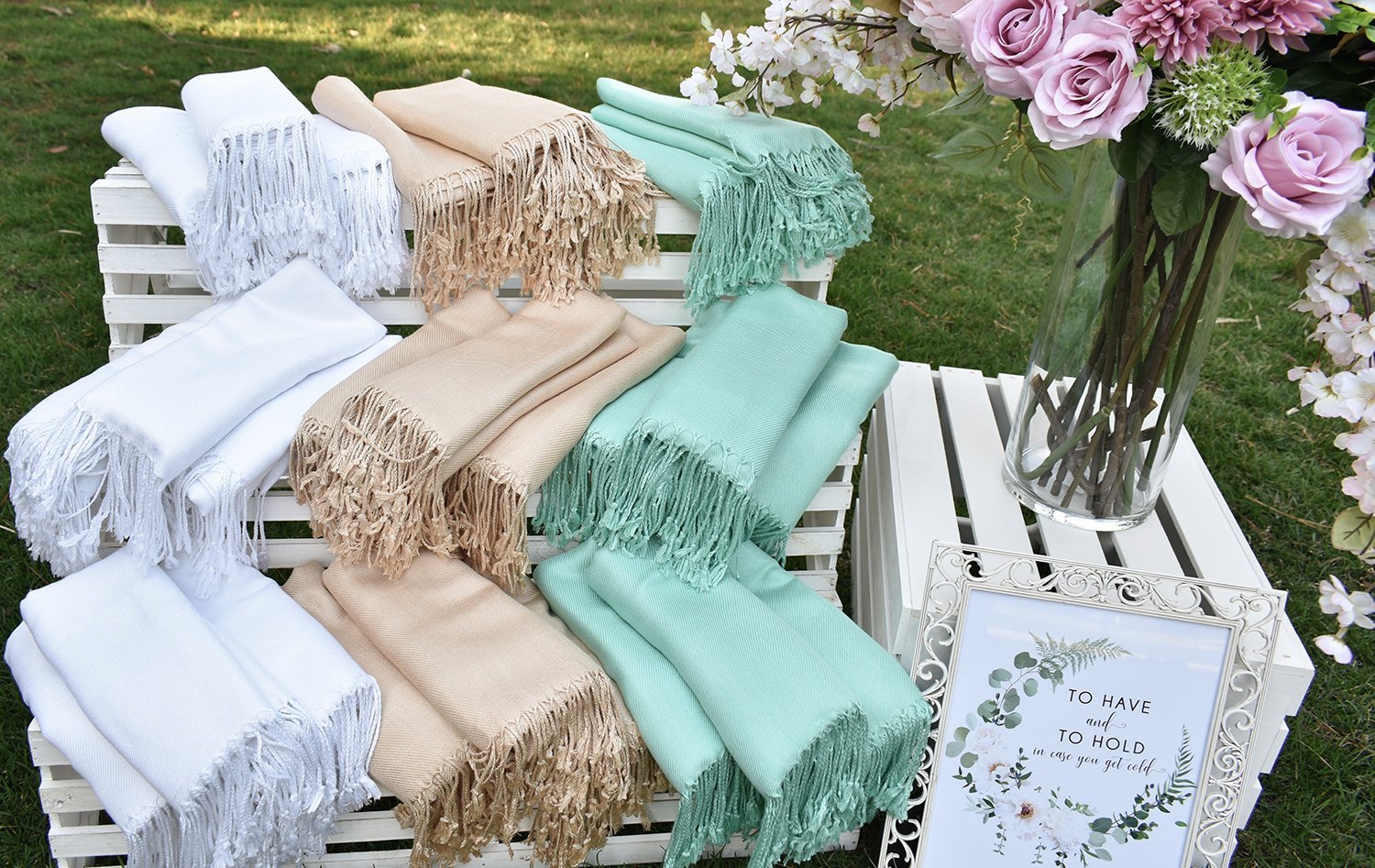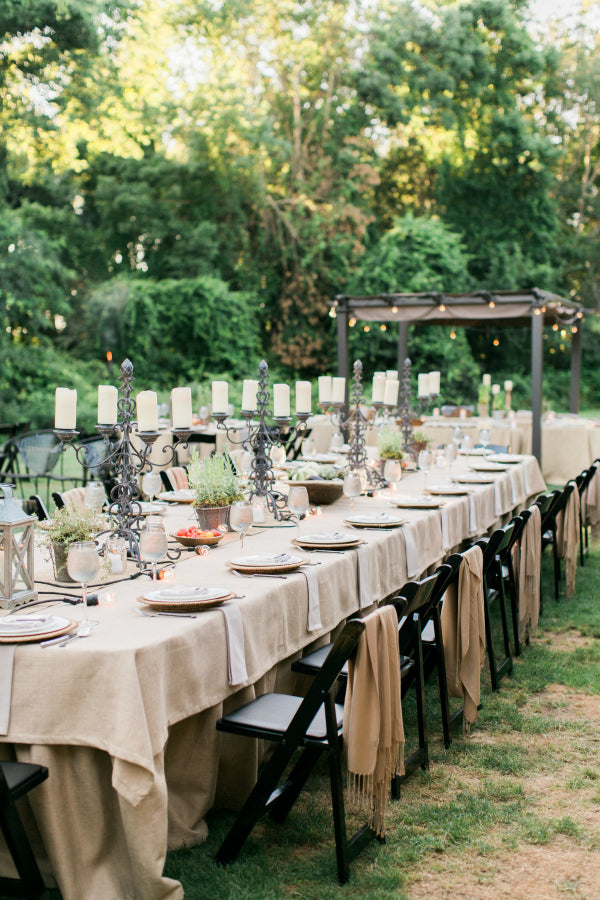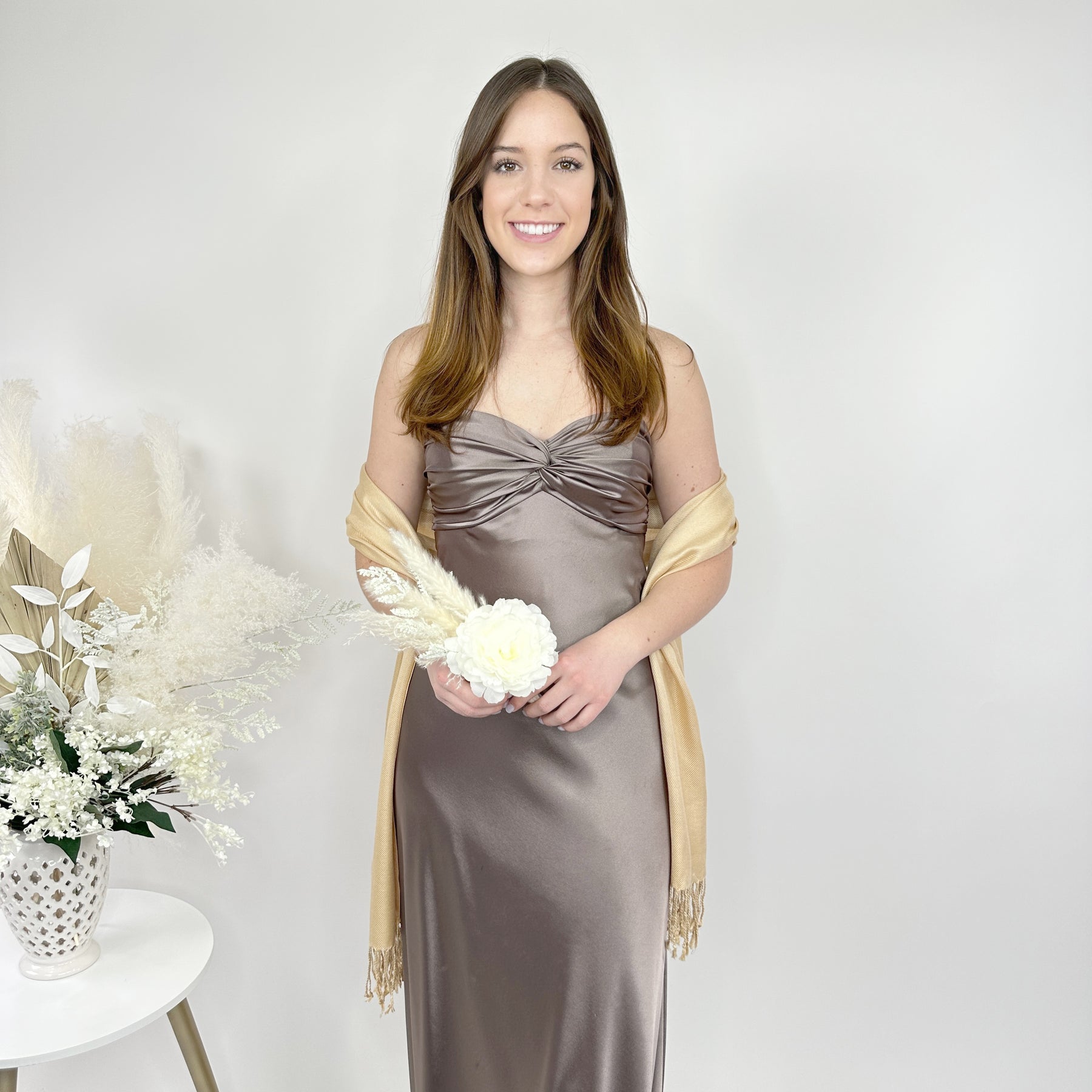 A champagne pashmina scarf is versatile and will go with any bridesmaid dress and match any wedding theme. Its simply a classic and a must for winter and chilly outdoor weddings!
Our wedding pashminas are extremely soft and will keep your guests warm at your wedding reception and they are great pashmina wedding favors for your guests as they are high quality. A prefect bridesmaid proposal gift is a champagne bridesmaid pashmina!  
A pashmina scarf is also a great favor gift for guests at a bridal shower, baby shower, mitzvah, corporate event or birthday party!
Please make sure to purchase a sample if you are placing a large order to insure quality and color expectations are met. 
Materials: 70% Pashmina/30% Silk
Dimensions:  L70" x W 28"  
28" L x 70" W (+3" fringe on each side)
We ship samples within 2 business days. To view the most accurate transit times it is best to add the item to the cart, go to checkout and enter your address. You will see transit times in the shipping secion.
If you are in a rush and need the items by a specific date please contact our support team: support@receptionflipflops.com.
Please see below the indivdual item locations:
We offer full refunds and free exchnages if any issue is our fault.
If you have a change of heart we offer refunds and exchanges, but please check our refund page for eligibility and more details/costs.
Accessorise Your Pashminas
General
70% Pashmina / 30% Silk
The Pashmina portion is a viscose fabric which is a synthetic blend.
The silk protion is natural made from the cellulose in wood.
70" L x 28" W (with 3" tassles on each end)
Definitely! Just select "Single Piece/Full Sample" above. Samples are full shawls, they are NOT swatches.
Colors are difficult to portray 100% accurately for many reasons. One of the main reasons is everyone's device/screen is different with slightly different color settings which can lead to color variations. 
The second most common reason is people will look at the flip flops at night and/or under fluorescent/artificial lighting which can have an effect on the color, and that's with any material. Our product photos are all taken in natural light to insure the true color is portrayed.
Therefore, we strongly advise you purchase a sample before making a large order.
Shipping
Yes, we ship all over the world. Shipping costs will be calculated at checkout. We run discounts and promotions all year, so stay tuned for exclusive deals.
It depends on where you are. The fastest way to view transit times is to go to checkout and enter your address.
Please be aware that you need to add our processing time to the transit time. We do our best to process and deliver all our orders within 2 business days (with the excpeption of custom products like bands and hang tags which can take up to 7 buisness days).
If you are in a rush and need the bundle by a specific date please contact our support team: support@receptionflipflops.com.
Other
Click here to contact us through our contact page! We will be happy to assist you.
Perfect wraps for my daughter's bridal shower
The fabric was beautiful and the personalized tags were perfect!
Thanks for the review! We're so glad to hear that! :)
Absolutely AMAZING QUALITY
I ordered 6 scarfs in varying colors. they are all beautiful and soft, look amazing with any outfit day or night. I will be ordering more colors soon.
Thanks for the review! We're so glad you love the quality and look of our pashminas. We hope you'll order more colors soon! :)
Pashmina scarf
I ordered the Pashmina scarves for bridal shower favors! They are absolutely beautiful! I would order them again
Thank you for your review! We're so glad that you're happy with your purchase!
Loved them. Ended up not needing them but were exactly what they advertised
Thank you for you review! Have a great day! :)